Books by Rev. Criss
The United Front series
The latest books available in the United Front series are the Ship's Log Dated & Undated Planners. For more information on what's in it and where you can get it please see this page at Kinhost.org.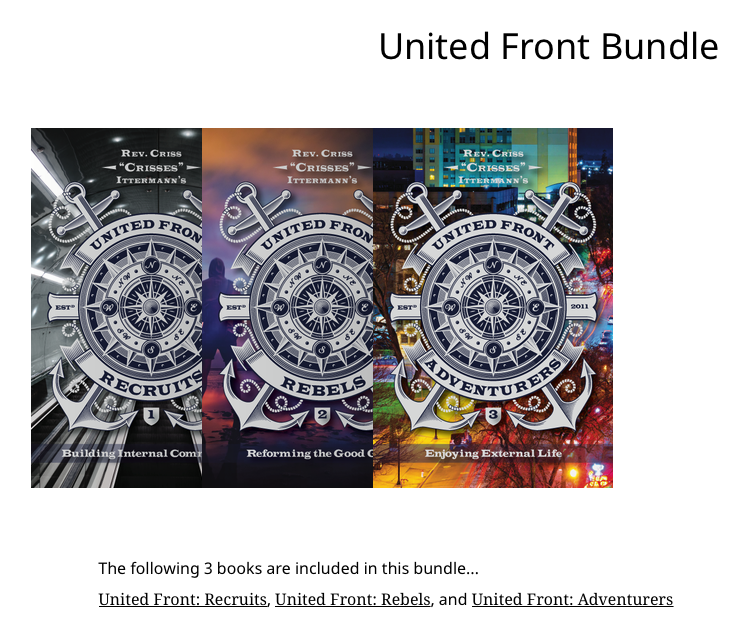 Buy the in-progress United Front series through Leanpub as ebooks!
The United Front series (2013-current) - Positive, proactive and collaborative self-help for people with multiple personalities. This series is based on the United Front Boot Camp (see "United Front Boot Camp") and the System Trust Issues episodes of the Many Minds on the Issue podcast, as well as myriad years of helping plurals, multiples and traumatized DID systems work together. We present methods of increasing communication and collaboration amongst your inner people, building leadership skills, and ways to navigate external situations and life as a functional multiple system. Click to learn more about the bundle on Leanpub.
Right now this is the only book bundle in the store and contains United Front "trilogy" of books: Recruits: Building Internal Community, Rebels: Reforming the Good Guys, Adventurers: Enjoying External Life.
If you pay for the current bundle, you'll get to read the books as they're written and get the whole book bundle as they become are completed AND you can participate in each book's private online forums on Leanpub to help give feedback while they're being written. See The United Front bundle for more info!
If you purchased our former The Crissing Link: United Front or the bundle that contained United Front while it was part of The Crissing Link series — please contact us for a coupon for the new series bundle and thank you for your support!
---
Practicing the art of following your heart
by Rev. Criss Ittermann
Hardcover, Softcover & customizations available. read more…
Are you looking for a different way to plot out your dreams and goals? Have you tried self-coaching and life planning tools that fell short?

---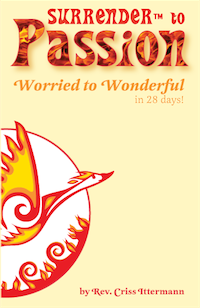 Does this describe your life?
Cover price $24.00.
Personal Stock Sale $20.00.
I need it shipped to me - USA orders
(give PayPal your shipping information)
$24 each
I need it shipped to me - Canadian orders
(give PayPal your shipping information)
$26 each
I'll pick it up from you
Orange County, NY & surrounding area
$20 each
I'd like bulk!
Buy 5 get 1 free, free shipping in USA
$99 total
Are you in another country? Please contact me for more information.
---
The Crissing Link Series - for people with Multiple Personalities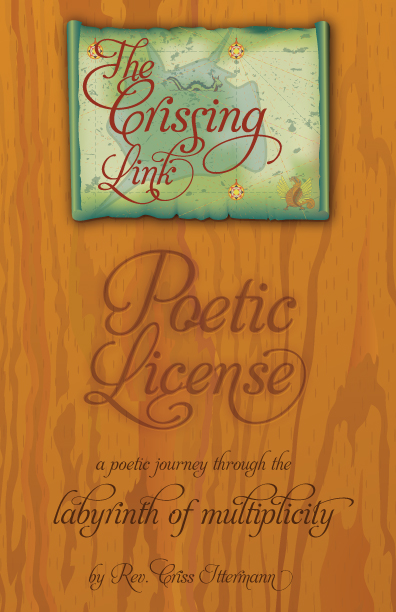 The Crissing Link: Poetic License - List Price $24.00
184pp. Purchase through: Rev. Criss - CreateSpace - Amazon
Full book description, excerpts, etc.
Links will redirect to Kinhost.org.
---
Contact the Crisses
Potential clients can contact us with the form below, by phone, text, or this scheduling form to schedule a 30-minute fully confidential sample session. During this appointment we determine what you are looking for, we deliver value and show you how we work, and hopefully we both get the information we need to determine whether we would like to pursue a coach-client relationship together.
If you'd simply like to ask questions to figure out what service(s) are right for you, here's a link for a purely informational session to determine what type(s) of services would be a good fit for you.
Please feel free to call and leave a message. If you do not reach us, please keep in mind that we often work with clients by phone and please leave a message so we can get back to you.
845-820-0262 (Eastern Time/NY Time) - No advertising opportunity requests or VA/marketing solicitations please.
You may also email me: