---
Coaching vs. Therapy: Two Different Approaches to Moving Forward
We each only have a finite number of minutes and hours on this Earth, and how many is a great mystery. It's one thing to relax and decompress, and another to waste time chasing your tail and doing the same thing over and over again getting frustrated that you're not getting different results.
Along the way, you may be disappointed in yourself, or even hurting yourself or others. It can feel awful, and the panic of wanting to stop immediately isn't helped any by a lack of tools and resources. There are people out there who are entirely invested in you maximizing your time left on Earth, and you can build a larger team invested in your well-being.
Check out how life coaches and therapists help people move forward rather than being caught in a non-productive loop where goals and dreams are left by the wayside.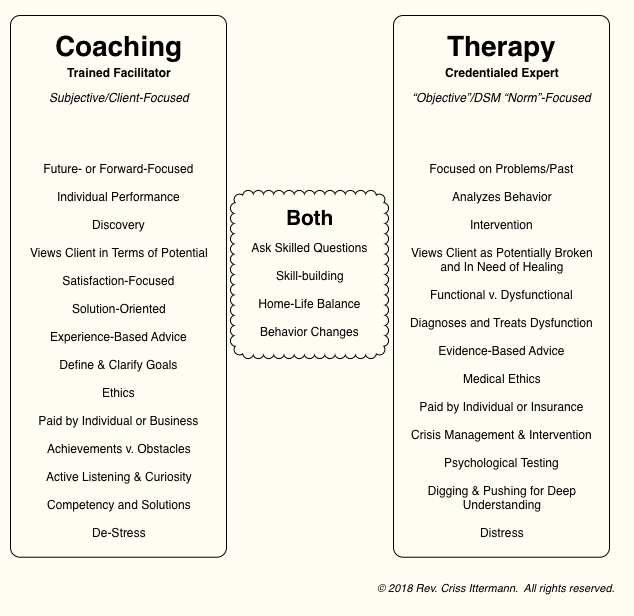 Life Coaching
Life coaches are trained peer facilitators who are entirely on your side, focused on where you are right at this moment, where you want to go from here. They help you focus on the non-clinical and non-crisis aspects of your life.
A life coach is not bogged down by anyone's definitions of what "normal" is, and is only concerned about your comfort with yourself, your comfort with who you are, and whether you achieve the things you set out to achieve. Your coach helps you work on your potential, using very specific methods of non-judgmental listening, an attitude of curiosity, and focused questioning to help you see yourself and your options more clearly.
A life coach will ask you to seek out professional assistance if you are in crisis, suicidal, or want to hurt anyone — this is not at all what a life coach is equipped to deal with.
If you need a medical or mental health diagnosis, or need your costs to be covered by insurance, do not seek out a life coach.
Life coaching is always client-focused and client-driven. If you don't have a coaching agenda, a good life coach will work with you to determine what your agenda is. If your agenda is not suitable for coaching, your coach should inform you and choose not to work with you.
"Life Coaching" is a broad catchall and can be further specialized into sub-categories, such as career coaching, relationship coaching, health coaching, etc.
Therapy
Therapists are credentialed experts (usually having both a specific level of college education plus supervised clinical experience before becoming licensed) who address both typical behavior and issues as well as clinically significant diagnoses (as defined by the Diagnostics and Statistics Manual) using evidence-based advice and models or devising treatment plans to "normalize" someone's behavior.
Talk therapy digs and pushes into past experiences to help inform an analysis of your current issues and behaviors over a long period of treatment.
Some models of therapy (i.e. cognitive-behavioral) have changed from a long-term talk model to shorter success-focused "value-based" and "results-based" therapies, however some diagnoses (such as dissociative identity disorder) still warrant long-term talk therapy treatment over the course of years.
Therapy is focused on whether or not who you are, how you think, what you believe, and how you behave fit into the current definition of "normal" and "functional" (as outlined in the Diagnostics and Statistics Manual or DSM and by the culture that influences it), and thus there's a good bit of analysis and judgement going on, whether that is shared with you or not.
Depending on their credentialing, therapists may be able to diagnose or may have to refer you to someone with appropriate credentials for diagnosis, and may give or seek an opinion on whether you need pharmaceutical intervention (psychopharmacology).
Whether or not your diagnosis is official, therapists work from a philosophy of pathology and probably "suspect" a diagnosis for their client whether or not it is an official one. By its very nature, it's a labeling and stigmatizing paradigm and good therapists try to work within this paradigm with as client-focused a view as possible.
Why not both?
It is interesting to note that some clinicians have changed over to life coaching or incorporate coaching techniques in their practice. However, because of the mind-frame differences in attitude and observations made by the practitioner, one can really only have a life coaching relationship with your client, or be a clinician who borrows techniques from life coaching when they are helpful.
There are people who need both paradigms, for whom using both a therapy relationship and life coaching relationship at the same time is the perfect solution. There's a lot of ground that therapy and coaching can address with their different philosophical approaches, and some areas where one excels over the other.
If you feel you need your therapist to focus more on your problems, traumatic experiences, and unpacking your past while you simultaneously work with a life coach on where you are today and what progress you're making on your current goals and dreams — then it may be best to consider both and start to create a "team" of professionals to help you get where you want to go.
Having separate appointments: therapy to handle trauma and reframing past events versus coaching on current events, goal-setting, project strategies, and internal community building, means that you no longer have to choose when you walk into the therapist's office whether to make progress on the underpinnings of your panic and anxiety reactions versus making sure you have someone to talk about recent accomplishments, tackling your goals and dreams, and working on getting out of each other's way as a group.
Choosing Therapy or Coaching
With some regional and cultural exceptions, both therapy and life coaching have become fairly well-accepted in the mainstream. The end results of either one can be similar: you are able to move forward on your goals and dreams.
In spite of significant progress in de-stygmatizing mental issues, it has not been vanquished. Some people are still attacked, dismissed, or blamed for having a therapist or a diagnosis, and others are simply "bothered" by the entire idea of therapy, whether it's from stigma, past experience with lousy therapists, or simply a philosophical disagreement with the ideals and methods of therapy and the entire medical/pathology paradigm.
If that's your situation, you're in luck because you can hire a life coach without being labeled, stigmatized, etc. while still getting the benefits of setting aside specific time for examining where you are now and where you'd like to be tomorrow, planning for goals, getting accountability to achieve them, etc.
A case where therapy is definitely indicated is if you have issues of self-harm, cutting, suicidal thoughts, extreme depression, panic attacks, irrational behavior, uncontrollable anger, or if you may hurt someone.
Where either may be helpful are the areas between the extremes: if you have no particular issues or arguments with therapy, no extreme distress or issues with endangering yourself or others, then both methods, or even both at the same time, can be helpful for you.
Where life coaching really shines is when you are frustrated with your current circumstances, are looking to make big change in your life, want to get better faster results, are confused about your options in life, have big decisions to make, are overwhelmed by big dreams or goals that you want to examine and break down into smaller achievable goals and milestones, or you are looking for a very specific outcome such as — in our case, with our experience and expertise — developing your own tools for personal (dis)stress management, or improving your internal relationships with your headmates (if you are DID/OSDD, multiple/have multiple personalities, or are plural).
The best thing to do from here is probably interview your potential helpers and take a lot of notes on how their personalities mix with these different methodologies. Not every coach or therapist is the same. Attitude, demeanor, personal energy, focus, attention — all mix with the philosophies described in this article to create very unique practitioners and varied experiences for their clientele.
The only way to tell who you want to work with is to request a sample appointment.
---
Contact Rev. Criss
Potential clients can contact me with the form below, by phone, text, or my online scheduling application (the button) to schedule a 30-minute fully confidential sample session. During this appointment we determine what you are looking for, I show you how I work, and we determine whether we would like to pursue a coach-client relationship together.
Schedule Appointment
Please feel free to call and leave a message. If you do not reach me, please keep in mind that I work with clients by phone and please leave a message so I can get back to you.
845-820-0262 (Eastern Time/NY Time)
mail:
PO Box 225
New Hampton, NY 10958
You may also email me:
---
See Also
---
Leave a comment