United Front
What is United Front?
United Front is a collection of materials we developed to assist plural & DID systems in their quest for "Healthy Multiplicity". Each system in question defines their own process, the tools they wish to use, their system's goals & what "Healthy" is to them.
What is Healthy Multiplicity?
If one considers functional or healthy multiplicity to be similar to the idea of mental health recovery, it's a personal subjective journey more than a distinct objective goal. One person may say that functional multiplicity would include being able to hold down a job within their chosen career. Another it might be raising secure children. Yet another system may be fully satisfied if they didn't have insomnia anymore and could see their friends regularly without anxiety.
Even then, when we achieve our initial goals, the goalposts are likely to move. This is why people are rarely happy for long. If someone thinks they'll be happy when they get their dream car, it's almost guaranteed that once they have that car they'll set their sights on something else.
The one thing that everyone searching for Healthy Multiplicity has in common is that they want to improve their system's internal relationships as a group entity and learn to live together better. United Front provides the tools they need to work on their internal relationships and handle common problems, frustrations and pain points so that they can learn to collaborate, communicate and build a community together.
How does United Front work with the treatment standards for DID therapy?
United Front serves as an adjunct to the stabilization (first phase) of 3-phase treatment for DID systems. The intention is to accelerate stabilization by providing a plurality-first framework that is more accessible in light of the subjective experiences of people living with DID issues.
Therapists are welcome to suggest these materials to their clients, or assign specific readings (for example) between sessions to help their clients. That is not the primary purpose of these materials: we do not always agree with industry stances or documentation. These should be excellent points of discussion with specific clients during therapy.
Overall, professional materials are reductive, and how they're used is often ableist and/or infantilizing in practice. We have a strong stance that it's a therapist's job to empower their client, not disempower them (link to a conference session that highlights this). Often documentation & theories are used to disempower and argue with clients. We will always stand against this when put into practice: continuing to disempower clients is continuing an abuse dynamic that clients need to grow out of.
The primary purpose of these materials is to help plural, multiple & DID systems who do not require, or are unable or unwilling to get therapy. These materials have, in the past, helped some systems to get to a point where they could even seek therapy in the first place, as some folk have been abused by therapists in the past. Others simply have zero access or desire. They may live in a place where there are no DID specialists, or they have absolutely no means by which to get therapy even if it's theoretically available.
A secondary purpose is to also help sub-clinical plural systems achieve higher levels of functionality as well, especially when they are not needing or wanting to cram their life experience into the current frameworks provided by singular specialists. Folk who are not experiencing distress or dysfunction may not utilize all the materials provided — they will gravitate towards what they need. Meanwhile those most in need of stabilization do not have to wait until they can locate an appropriate specialist in order to get started on helping their system to become more stable.
History of United Front
Around 2005 the idea was to have 1 self-help book as a part of The Crissing Link™, another series of books by The Crisses. Each book of that series was planned to be a different genre; autobiography (The Crissing Link™: Poetic License), memoir, manifesto, etc. Most of that series are somewhat autobiographical or personal. The self-help book, which we begun outlining in 2005, and some concepts were tested out in the United Front Boot Camp blog series on kinhost.org in 2011. But as we developed more and more ideas and saw increasing need for additional topics the book grew and grew so it was split into 3 books in 2018, and thus into its own self-help series as the books got too large to be in a single volume. Now it's the United Front Series comprising of Recruits, Rebels and Adventurers along with the "United Front Ship's Log Planners". There's a good possibility of additional titles some day.
The plan is to embody the entire United Front process (see below) in the United Front books, and it remains to be seen whether our Better Spoons work will fit in the 3 volumes or split off into a separate United Front volume or even possibly become a separate offering since the information easily applies to both singular & plural systems.
United Front Courses on Plurality Resource
In addition to the self-help book series, there were concepts we wanted to detailed feedback on from members of the community before setting them in stone in a book. This led to the first "pilot pilot" which was a test group in early 2019 where we discussed some of the concepts that were later broken out into separate more intense coaching group pilots. Each topic-based pilot is being released as a stand-alone United Front course.
Then starting in 2020 we began breaking the United Front process into discrete modules to test out with coaching groups and release as stand-alone self-led courses.
Some other concepts that are being considered for the book series have also been released as courses: namely the United Front: System Safety Plan and the United Front Ships Log Planner courses.
All of these courses are available on PluralityResource.org.
The United Front Process
Although we've rendered this chart in various versions, here's a very simple overview of the United Front process, which is cyclical. Self-improvement is never "done" and as a plural or DID system onboards new residents (recruiting), they each will be at different points in their own individual improvement journey.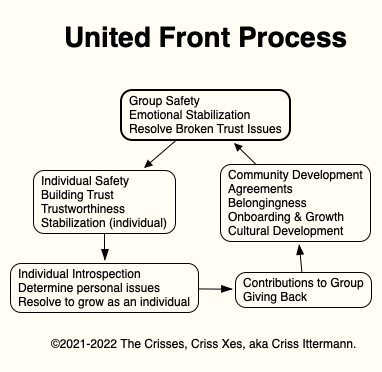 Process Description
If you start at the top — establish group safety. Then individual safety. Then individual growth/introspection. Each individual then gives back to the group. The community is thus upgraded.
Change is not easy for everyone, so at that point the group may need to tweak safety again because someone's like Change is Hard! or the changes have unearthed new folk.
So now it's back to safety again and back around the circle. Growth is messy. This is oversimplified. Yes steps may be skipped. Yes, there might be a big X and double ended arrows in the middle of this. lol And each "Step" is a menu of options. You might do them all every time. You might not. Again growth is messy. Lather, rinse, repeat. 🙂
To be more specific, we'll bring you through some of our process with folk who ask for help in the community.
Someone is in distress, apparently emotionally dysregulated, perhaps self-harming. We generally ask first whether their life is safe. (See "Group Safety" on the chart.)

If they don't seem to be in as much distress or dysregulation, we sometimes skip asking that question and suggest they create a safety plan. If they say their life is safe, however, we might refer them to emotional regulation assistance of some type.

If (or once) the group is safe, often there's some very specific conflict between system members. This means it's an internal "people problem" triggering anxiety reactions — not an external safety problem triggering anxiety reactions. So we turn to Individual Safety. Usually it's a breakdown of trust in the system and we will direct people with headmate-to-headmate issues to our System Trust Issues podcast or our Building Trust materials, sometimes to a specific article in the United Front Boot Camp.
That material leads some of the more present and co-aware members of the system to do some serious introspection about their behavior. They may find their behavior isn't stellar, and decide to change their behavior. Easing down the road towards self-actualization. Side bonus: when their triggering behavior ceases, other members start coming down from high alert, which allows them to become more present.
As members are growing/changing and becoming more present, often they start to give back more towards the whole system: attending meetings, taking on more responsibilities for the shared life, contributing skills & ideas. They may become major decision makers or leaders within the system.
This leads to more activities towards community development in the system: meetings, tweaking agreements, increased sense of camaraderie and belongingness to this strengthening community. Those who were oppressed may be rescued or onboarded as being more and more in the Here & Now, and so on.
Start the cycle over again: life has challenges, of course sometimes folk butt heads, or due to all this development deeper traumaholders are a little more exposed and it's their turn for their wounds to show up in terms of intrusions, emotional flashbacks, etc. and the cycle starts over again, raising the game on emotional stabilization, and determining what issues need to be resolved this time around — but this time there's a stronger group with more trust to handle the subsequent iteration(s).
How do we figure out where we are in this process?
So set aside that oversimplified high-level overview introductory chart above and go over to the United Front Self-Help Flowchart page. But be aware it's long and complicated, and we will do our best to walk people through it. This is why we're coaching people.
Recovery for DID and working with plural systems is complicated. It's both a combination of business management/corporate culture building issues & trauma/recovery issues.
The Current State of United Front Project Progress
The books are available as ebooks on LeanPub while they are in progress. So they are not completed or ready for physical publishing yet. The United Front Boot Camp is a stand alone & abridged, mildly outdated, version of United Front: Recruits. Recruits will be much more comprehensive and switches to the spaceship metaphor.
So the fact is the materials that will end up in the books eventually are somewhat scattered at the moment, between our podcasts, the courses on Plurality Resource, and contributions we have made to the Kinhost.org wiki (which are pointed to in the courses). The online courses are really the best place to go at the moment unless y'all don't have time for the more immersive and comprehensive experience.
Coming in 2023 — catch-up work (Updated February 4, 2023)
Notably, health issues rendered us much less able to work for about 3 months in 2021 and this could happen again, so we reserve the right (of course) to change our schedule if needed to account for life and unforeseen issues.
United Front: Building Trust course now completed & available as predicted - we first ran the pilot for this in 2020 but this was before we put up courseware. So in 2022 (March-April) we re-ran a coaching group to go through the online course materials. Opened to the public as a self-led course in Summer 2022 (done!).
United Front: Reparenting course - it was a 2020 pilot group, and has been run again from June-August 2022 (as predicted), and became a publicly available course in mid Fall (Q3) 2022.
We re-ran our final 2020 pilot group United Front: Internal Communication from Sept-Oct 2022, and the became publicly available mid-Winter 2022-23.
If our health & spoons are good, we'll be back at writing/revising for the United Front books in November 2022, so the LeanPub versions would be updated with whatever revisions/additions/updates we create in December 2022. (pending: we burned out & crashed about 17K words in, and need to upload updates.)
From there we will plan 2023 in and around December 2022, but we may plan Q1 2023 during Q3 2022. (In non-business English: we may start to plan for January-March 2023 somewhere around July-September of 2022.)
Notably we're due for either a break, a sabbatical, or a year of more intensive writing work to finish up books, and attend to other projects, and physical health, etc. Once all the foundational United Front courses we wanted to create are up — hopefully at the end of 2022 — we will decide whether or not 2023 is that year.
Feb 2023 update: 2023 is indeed that year. We've decided to go for a lighter track of work for 2023. We are working on an ongoing general coaching group. See United Front: Missions which should kick off in March 2023.