United Front System Self-Help Flowchart/Decision Maker
Disclaimer
We're a peer life coach. We are definitely not suggesting that you do self-help work without professional assistance, or that you go through this flowchart without any support. We offer a 30 minute courtesy session and we can help you decipher where you are and where you way wish to go next. You can definitely work through these ideas with your therapist. You can use these ideas as headwork between therapy appointments. You can work in a small (under 20-member, probably under 10) self-help support group and go through these materials together. Please find ways to support yourselves through this work.
Unfortunately to be realistic, not everyone has access to a therapist. Not everyone can approach others about their mental health issues, because of where they are in the process, or because they don't have access to anyone appropriate to talk to.
So these materials are provided in good faith with the hope that you will use them wisely, responsibly, apply critical thinking, make adjustments, not take everything on blind faith, and please question whether any pathway or materials are right for you-all, right now. You might also find it helpful or even necessary to re-take a course or re-visit materials with renewed understanding later.
That said, because not everyone has equal access to professional assistance, there are practical, financial, language and cultural barriers to getting assistance — we present y'all with every opportunity we can to get the help you need one way or another. Hence this chart, and the text is pulled out best as possible below so that those who cannot read the PDF or PNG can also get access to it.
Get/see the visual chart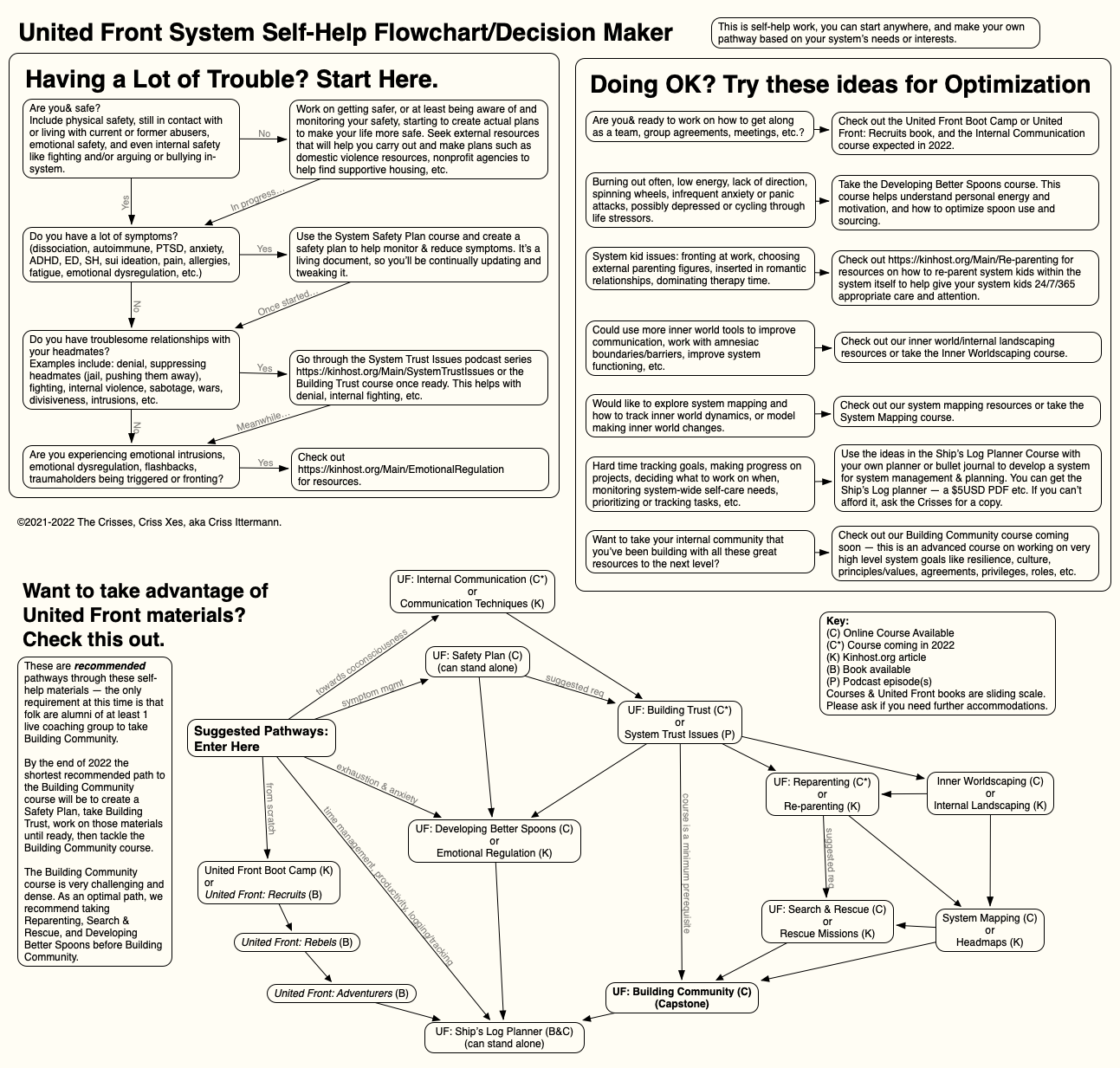 Direct links: PNG PDF (we apologize because this is an awkward size/shape and probably not easily printable, we may correct that at some point) and note all ©2021-2022 The Crisses, Criss Xes, aka Criss Ittermann.
Note
This is self-help work, you can start anywhere, and make your own pathway based on your system's needs or interests.
Having a Lot of Trouble? Start Here.
Doing OK? Try these ideas for Optimization
Want to take advantage of United Front materials? Check this out.
These are recommended pathways through these self-help materials — the only requirement at this time is that folk are alumni of at least 1 live coaching group to take UF: Building Community.
By the end of 2022 the shortest recommended path to the UF: Building Community course will be to create a UF: System Safety Plan, take UF: Building Trust, work on those materials until ready, then tackle the UF: Building Community course. For now, you will have to ask The Crisses for access to the Building Community course; there's no public pathway to the course materials.
The UF: Building Community course is very challenging and dense. As an optimal path, we recommend also taking UF: Reparenting, UF: Search & Rescue (C) or Rescue Missions, and UF: Developing Better Spoons before UF: Building Community.
Key:
(C) Online Course Available
(K) Kinhost.org article
(B) Book available
(P) Podcast episode(s)
Courses & United Front books are sliding scale. Please ask if you need further accommodations.
Suggested Pathways: Enter Here
This has to be simplified from the actual chart when rendered in text. The chart has many more connection lines in it.