Passionizing™ Planner
The United Front series
The latest planner we have now is part of the United Front series: the Ship's Log 2021 Dated Planner, the next evolution of the Passionizing™ Planner. We're in the middle of getting this published in various venues, but for more information on what's in it and where you can get it please see this page at Kinhost.org.
You can still get undated Passionizing™ Planners at both Lulu and Amazon.
Passionizing™ 2020 Dated Planner
Hardcover Coaching Planner
New!! Coach yourself or work with a therapist or life coach while using the Passionizing™ Planner. This durable hardcover 2020 dated planner is a beautiful rendition that lays flat, and is far more durable than a soft-cover planner or journal.
Having used softcover planners by Amazon/Createspace vs the Lulu hardcover planner, we can assure you that daily use of the hardcover version is infinitely more practical and less frustrating overall, and the book will last all year carried around daily in bags and purses, and on a shelf or in a journal bin when the year is past.
Make it your own: decorate the glossy cover using permanent markers, washi tape, stickers, etc. then coat in contact paper (or tape) so it doesn't rub off. Order at Lulu for about $32. It's not "neon" like their cover image preview :) I promise (no idea why that happens!). Has the Version 2020-1.00. interior.
Get the hardcover planner at Lulu.com
Note: The softcover version that was available on Amazon in past years has been retired. Users far prefer the hardcover planner, and basically no one has been purchasing the planners at random from just browsing books on Amazon, so why bother having it there? If you honestly have a lot of trouble purchasing the planner at the price listed, please let us know: we'd like to offer you a 30-minute coaching session and a discount on the planner. Let us help you help yourself/ves!
The hardcover dated planner is 272 pages:
lays flat, durable cover to last all year
includes instructions for everything contained inside
value-defining exercises
Role worksheets (values and goals per role)
"quarterly plans" for both 2020 & 2021 to track reminders or deadlines for each month of the year
review the past month's accomplishments & lessons
monthly 360-degree coaching assessments, set up goals, tasks and projects for the coming month
weekly goal, project, task & attitude assessments
daily dated pages allow you flexibility to record tasks, goals, accomplishments, appointments, etc.
daily meal/water/exercise trackers
customize your journal: write on the cover in permanent marker, add stickers or washi tape, & coat with contact paper to prevent smearing or rubbing off — or make a book cover
blank bullet-journal-like Table of Contents page for you to record special days or notes at the front of the book
Pages numbered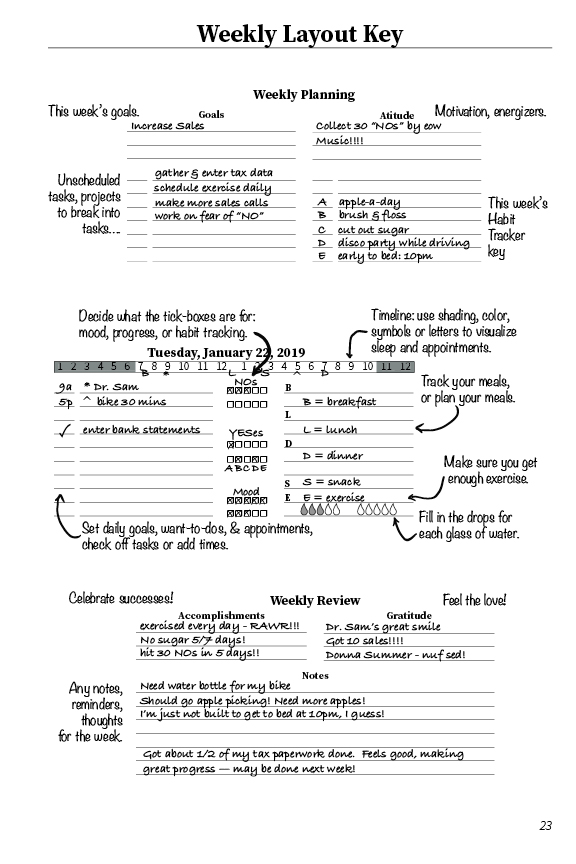 Weekly page layout puts your weekdays at your fingertips on one 2-page spread, along with your weekly plan. The next 2-page spread has room for the weekend, weekly review and meeting notes.
More instructions in this version, still plenty of room for tracking meals or meal planning, tracking exercise, habits, visualizing your timeline, and more.
start of the week "planner" to write down projects, tasks, subprojects, habits to work on, etc.
add your own inspiration or quote for the week, something to keep in mind, motivation, rewards, etc.
progress or habit checkboxes for every day
meal planner or tracker, exercise tracker, water tracker
un-scheduling: times or checkboxes? That's up to you. Whether your day starts at 4am or 4pm, your appointments are at noon or midnight, or you never have appointments just checklists — you decide what you "want to do" each day
weekly review: track your accomplishments and what to be grateful for this week
2 "note" sections per week for meeting notes or project notes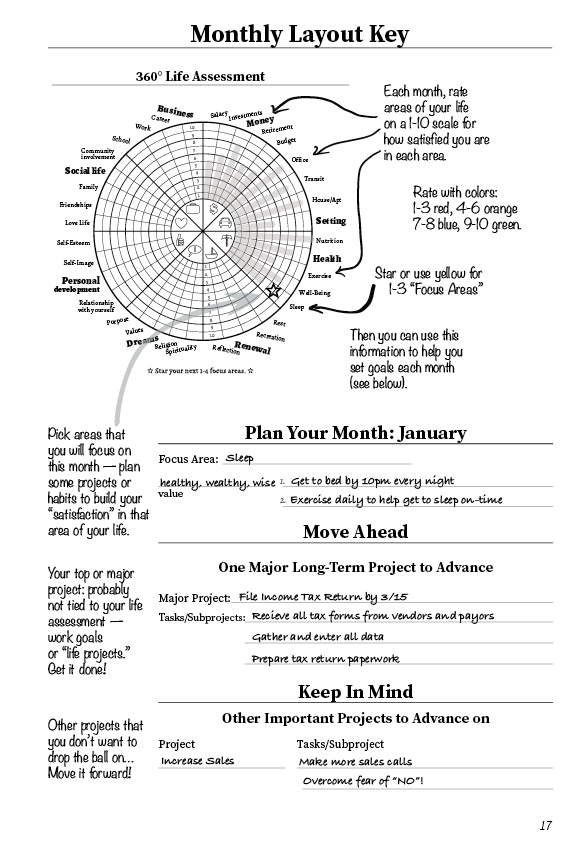 Every month do a 360° Assessment, and plan the projects and habits you need to work on to stay on top of your life.
monthly 360-degree Life Assessment™ (satisfaction survey/wheel)
a planning sheet for each month
a monthly summary/reflection
Interested in signed or local copies? I have some in-stock of both the hardcover & softcover planner, and softcover undated planners (see below). Please inquire:
---
Undated Passionizing™ Planner
See our video tour of the original undated journal
Passionizing™ Planner
Practicing the art of following your heart
by Rev. Criss Ittermann
Are you looking for a different way to plot out your dreams and goals? Have you tried self-coaching and life planning tools that fell short?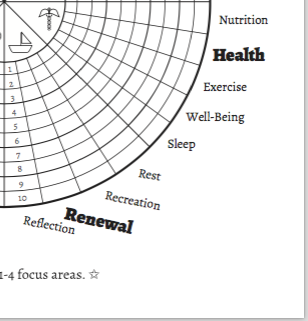 This is a planner that will evolve every year based on user input, and I created it for myself -- I'm a life-long writer, creative, coach, teacher and seeker. I've tried many planners and found they fell short for a variety of reasons. Check out my book, Look Inside, and see if you think it will work for you.
The book includes instructions for everything contained inside:
a starter list for designing ways to decompress
a starter list of the values of life
core values assessment (2 ways -- part of the life assessment, and a role model worksheet)
monthly 360-degree Life Assessment™ (values exploration and satisfaction survey/wheel)
a mini planning sheet each month (or every 5 weeks)
a monthly Relaxation Bingo scorecard
a monthly summary/reflection
write on the cover in permanent marker & coat with tape or contact paper to prevent smearing or rubbing off
Version 0.03 (Summer 2016) is out now, available on Amazon.
22 "note" pages throughout book - list your Movie or TV series tracker, ideas, or sketches -- anything goes.
Table of Contents pages for you to record page numbers at the front of the book
Pages now numbered
Monthly & yearly planning pages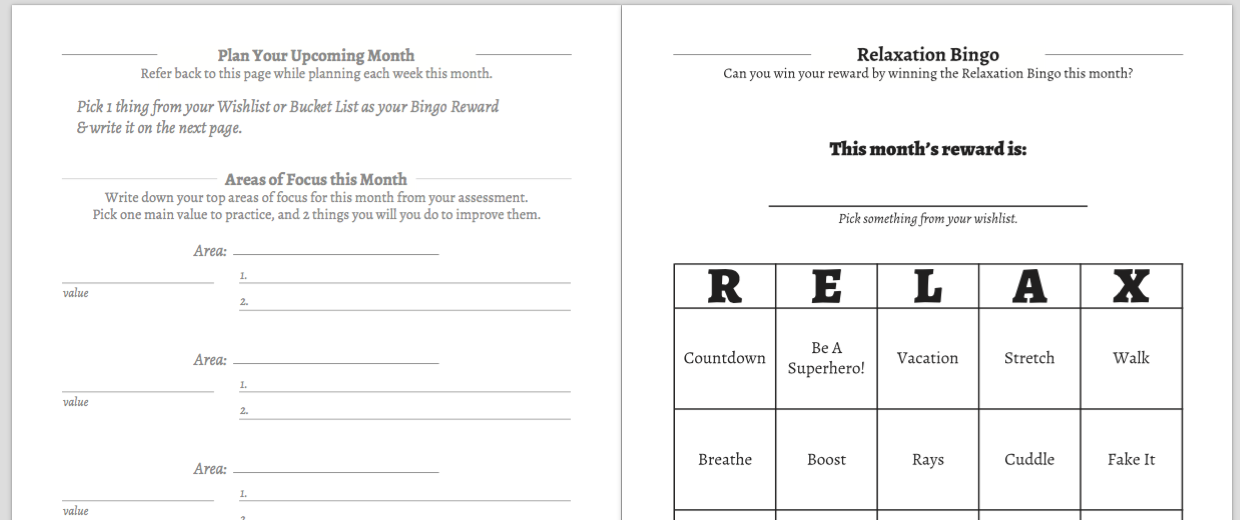 Every 2-page week contains:
little checkboxes for every day, so you can track glasses of water you drank, or number of breaks from your computer, financial goals, number of cold calls you made -- whatever you want to track
un-scheduling: there's no set times written on the days. If you work the midnight shift, if your day starts at 11am, if you use an electronic scheduling application -- this is perfect for you.
a clear reminder to create your WANT TO DO LIST (talked about in the book SURRENDER™ to Passion: Worried to wonderful in 28 days)
a reminder to either take care of or get rid of overwhelming obligations
a reminder to listen to your inner wisdom, and take care of yourself
a reminder to be grateful, celebrate successes
ways to track your activity level and your success level - I'm personally curious about this and whether it will work well. If I'm more active in my business, do I see a trend for more success in a week or two?
a way to track which of your life areas you worked on this week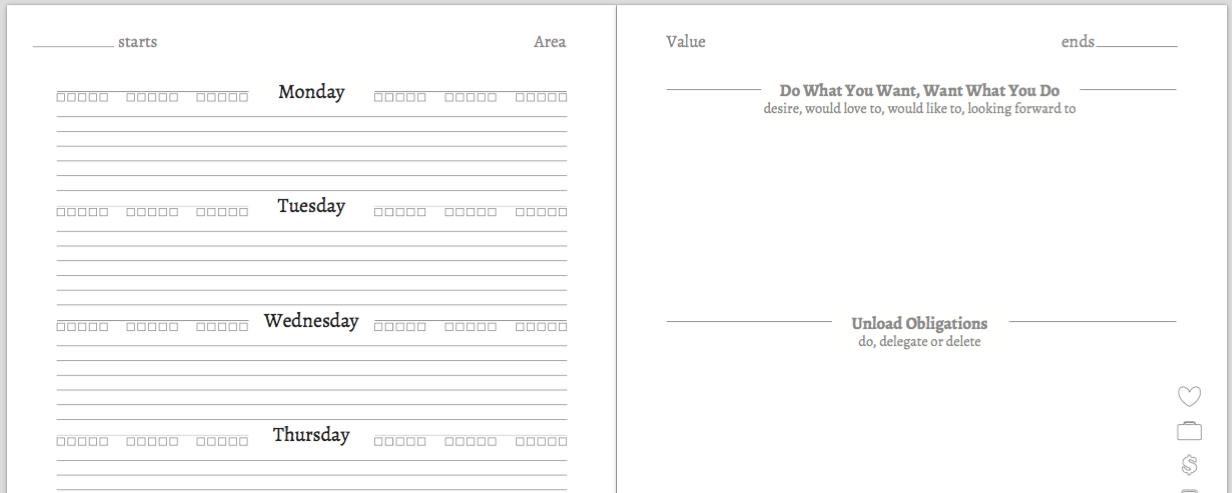 Hardcover
Durable hardcover version available on Lulu.com: this hardcover is a beautiful rendition that lays flat, and is far more durable. Decorate the glossy cover using permanent markers then coat in contact paper (or I used tape) so it doesn't rub off. Order at Lulu for about $40.00. It's not as "neon" as their cover image :) I promise. Has the Version 0.03 interior.
Softcover
List price: $19.99
Order on Amazon -- the fastest way to get it
Local? Ask if I have any copies in-stock. $21.61 - order with tax included -- for delivery at an NWIN event or buyers in Orange County, NY
Older editions available at a discount - $10 + tax. Version 0.01 available, while supplies last.